The page may not load correctly.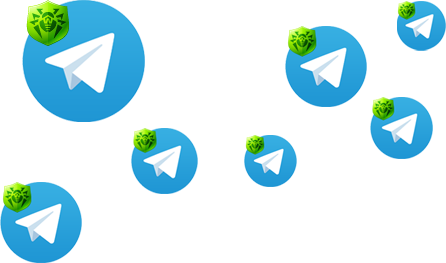 Dr.Web bot for Telegram
The first anti-virus bot for checking links and files on-the-fly
Works on any device that has Telegram installed on it, PCs, mobile devices, and even via the web version in your browser
Virtually invisible with regards to system load and resource consumption
How does it work?
Find the Telegram account

@DrWebBot

(or go to telegram.me/drwebbot) ) and send it a file or a link. The bot will check it for viruses and report on the results.
Checks links and files in both a private dialogue (send suspicious content directly to the bot, or send it a message received from other users) and a group conversation — if you add the bot to a conversation, it will scan all the files and links within it.
Learn about all the features of the bot, using the

/help

command. The bot is available in two modes: quiet and standard. The default mode is standard: the bot responds to every file or link and determines whether they are safe. In a group conversation, emails from the bot can interfere with normal communication so it is better to use the quiet mode which is when the bot only warns users if a file or a link in a chat room contains a threat. Use the

/mode

command to select the mode you want.
The bot can communicate with a user in Russian, English or German. Use the

/lang

command to select the language you need..
Important!
The bot is not a replacement for an anti-virus: it will not be able to scan a phone or a PC, prevent malware from being downloaded or cure a device that is already infected. For full protection, install the Dr.Web anti-virus appropriate to your operating system or mobile platform.
Still not ready to switch to Dr.Web?
Then take advantage of Dr.Web KATANA
as an additional layer of anti-virus protection

A non-signature anti-virus offering preventive protection against the latest active threats, targeted attacks, and infiltration attempts that take advantage of vulnerabilities (including zero-day ones) that your anti-virus can't detect.
The most lightweight non-signature anti-virus for desktops, laptops, netbooks and tablets running Windows 10/8/8.1/7/Vista SP2/XP SP2+ (32/64-bit)
Does not conflict with third-party anti-viruses